This is the new holocaust memorial proposed for London.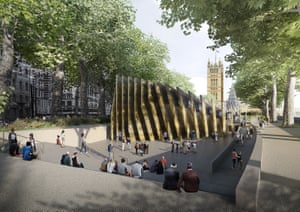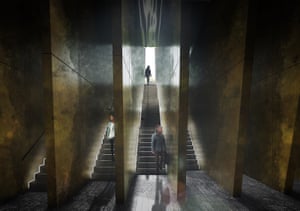 I ask why we have gone over the top about the Jewish Holocaust? What actual link is there to Britain? We didn't do it. We didn't do anything to stop it either, except finish a war that had already started before any Jewish Holocaust.
In the process we killed over 60 million of our OWN people. 60 million.
There seems to be only one holocaust that we ever promote constantly. "Lest we forget" they say.
What about all the others we did nothing about? What about the ones ongoing now?
Are they not on our conscience too? Where is the education about them? Where are the monuments? Where is the grief? Where is the guilt?
"Lest we forget"
 
Event
Location
From
To
Lowest
estimate
Highest
estimate
Proportion of group killed
The Holocaust[N 1]
 German-occupied Europe
1941
1945
5,750,000
[3]
6,000,000
[4]
Around 2/3 of the Jewish population of Europe.[5]
Generalplan Ost[N 1]
 German-occupied Europe
1941
1945
4,500,000
[6]
13,700,000
[7]
Deaths include 1.3 million Jews, which are included in the deaths of 6 million Jews during the Holocaust,[4] as well as the deaths of more than 3 million Soviet POWs.[4]
Holodomor(Голодомор)[N 2]
(Ukrainian genocide which is part of greater Soviet famine of 1932–33)
 Ukrainian Soviet Socialist Republic, Soviet Union
1932
1933
1,800,000
[19][20][21][22]
7,500,000
[23][24][25][26][27]
Genocide of Ukrainians through artificial starvation by the Soviet regime.[28] At least 10% of Ukraine's population perished.[29] Its characterization as a genocide is disputed by some historians.[30][31][32]
Polish genocide[N 1]
 German-occupied Europe
1939
1945
1,800,000
[4]
3,000,000
[33]
As much as 3 million Christian Poles were killed as part of the Nazi's plan to exterminate the Polish population in order to provide living space for Germans.[33]
Cambodian genocide[N 3]
 Democratic Kampuchea
1975
1979
1,386,734
[42][43]
3,000,000
[37][44]
10–33% of total population of Cambodia killed[45][46] including:100% of Cambodian Viets
50% of Cambodian Chinese and Cham
40% of Cambodian Lao and Thai
25% of Urban Khmer
16% of Rural Khmer
Kazakh genocideduring the Soviet famine of 1932–33[N 4]
 Kazakh Soviet Socialist Republic, Soviet Union
1931
1933
1,300,000
[47]
1,750,000
[48]
Some historians assume that 42% of the entire Kazakh population died in the famine.[48] The two Soviet census show that the number of the Kazakhs in Kazakhstan dropped from 3,637,612 in 1926 to 2,181,520 in 1937.[49]
Armenian genocideՄեծ Եղեռն (Medz Yeghern, "Great Crime")[N 5]

Ottoman Empire
(territories of present-day Turkey, Syriaand Iraq)

1915
1922
700,000
[50]
1,800,000
[51]
At least 50% of Armenians in Turkey killed[50]
Indonesian genocide[N 6]
 Indonesia
1965
1966
500,000
[63][58][59]
3,000,000
[60][61]
Some scholars now argue that the Indonesian massacres constitute genocide by the legal definition.[64][53][57][65][66]
Rwandan genocide[N 7]
 Rwanda
1994
1994
500,000
[67]
1,071,000
[68]
70% of Tutsis in Rwanda killed
1/3 of Twa in Rwanda killed
20% of Rwanda's total population killed
Greek genocideincluding the Pontic genocide[N 8]
 Ottoman Empire
(territories of present-day Turkey)
1914
1922
500,000
[69]
900,000
[70]
Zunghar genocide准噶尔灭族 in the Zunghar Khanate[N 9]
Qing Dynasty(Dzungaria)
1755
1758
480,000
[74]
600,000
[74]
80% of 600,000 Zungharian Oirats killed
Great Famine (Ireland)[N 10]
 Ireland
1845
1849
775,000
1,500,000
25% of the Irish population at the time died in the famine or fled the country.
Circassian genocide[N 11]
 Circassia, Caucasus
1864
1867
400,000
[87]
1,500,000
.[88]
90% to 97% of total Circassian population perished and deported by the Russian forces.[89][90][91]
Genocide by the Ustaše including the Serbian genocide[N 12]
 Independent State of Croatia(territories of present-day Croatia, Bosnia and Herzegovinaand Serbian Syrmia)
1941
1945
357,000
[93][94]
600,000
[93][94][95]
Conservative estimates ranging between 200,000 and 500,000 Serbs killed by the Ustaše.[96][97][98][99]
(See death toll of Serbian genocide)
Bangladesh genocide[N 13]
 East Pakistan
1971
1971
300,000
3,000,000
[101][102]
4% of Bangladesh's total population killed[103]
Over 20% of Bengali Hindus killed[104]
(Using 1 to 3 million deaths figures)
Albigensian Crusade
(Cathar genocide)[N 14]
Languedoc, France
1209
1229
200,000
[107]
1,000,000
[108]
Assyrian genocideܣܝܦܐ (Seyfo, "Sword")[N 15]
 Ottoman Empire
(territories of present-day Turkey, Syriaand Iraq)
1915
1923
200,000
[109]
750,000
[110]
Irish genocide[N 16]
 Ireland
1649
1653
200,000
[115]
618,000
[116]
20-40% of the population of Ireland perished during the Cromwellian conquest[115][116]
Wu Hu genocide[N 17]
Northern China
350
351
200,000
[117]
200,000
Aardakh[N 18]
(Soviet deportation of Chechens and other Vainakh populations)
 Soviet Union, North Caucasus
1944
1948
144,704
[124]
200,000
[118][125][126][127]
23.5% to almost 50% of total Chechen population killed[124][118][119][120][121]
Porajmos (Romani genocide)[N 19]
 Nazi controlled Europe
1935
1945
130,000
[132]
500,000
[133][134]
25% of Romani peoplein Europe killed
Battle of Carthage
(Punic genocide)[N 20]
Carthage(territories of present-day Tunis, Tunisia)
149 BC
149 BC
150,000
[140][135]
150,000
Population reduced from 500,000 to 55,000. 150,000 died in the fall of Carthage.[140]
Polish Operation of the NKVD (Polish genocide)[N 21]
 Soviet Union
1937
1938
111,091
[150]
111,091
Massacres of Poles in Volhynia and Eastern Galicia[N 22]
Eastern part of pre-war Poland
1943
1945
100,000
[153][154][155]
300,000
[156]
minimum 4 to 20% of pre-war (1931) Second Polish Republic's total Polish population of Voivodeships: stanisławowskie, tarnopolskie and wołyńskie[157]
Jewish genocide during the Russian White Terror[N 23]
what is now Ukraine and Russia
1918
1923
100,000
[158]
150,000
[158]
An estimated 100,000 to 150,000 Jews in Ukraine and southern Russia were killed in pogromsperpetrated by Denikin's forces as well as Petlyura's nationalist-separatists.
Darfur genocide[N 24]
Darfur, Sudan
2003
ongoing
98,000
[161]
500,000
[162]
East Timor genocide[N 25]
 East Timor
1975
1999
85,320
[167]
196,720
[168]
13% to 44% of East Timor's total population killed
(See death toll of East Timor genocide)
Burundian genocides of Hutusand Tutsis[N 26]
 Burundi
1972
1993
80,000
[169][170]
25,000
[171]
210,000
[169][170]
50,000
[172]
Libyan genocide[N 27]
Italian Libya
1923
1932
80,000
[177]
125,000
[184]
25% of Cyrenaicanpopulation killed[177]
Bambuti genocide[N 28]
North Kivu, Democratic Republic of the Congo
2002
2003
60,000
[187][185]
70,000
[187]
40% of the Eastern Congo's Pygmy population killed[N 29]
Isaaq genocide[N 30]
 Somalia
1988
1991
50,000
[203][193]
200,000
[204]
Kurdish genocide[N 31]
 Iraq
1986
1989
50,000
[207]
200,000
[208][206][209]
Genocide by the Chetniks[N 32]
 Independent State of Croatia(territories of present-day Croatia, Bosnia and Herzegovinaand Sandžak)
1941
1945
47,000
[216]
65,000
[217]
Herero and Namaqua genocide[N 33]
 German South-West Africa
1904
1908
34,000
[218]
110,000
[219][220]
60% (24,000 out of 40,000[218]) to 81.25% (65,000[221][222] out of 80,000[223]) of total Herero and 50%[218] of Nama population killed.
Guatemalan genocide[N 34]
 Guatemala
1962
1996
32,632
[228]
166,000
[229]
Genocide of Jews in the Polish–Lithuanian Commonwealth[231]
 Ukraine and Belarus (Polish–Lithuanian Commonwealth), Moldova
1648
1657
18,000
[232]
100,000
[233][234][235][236][237]
45-50% of the Jewish population of Ukrainewas killed.[232]
Latvian Operation of the NKVD
(Lativian genocide)[N 35]
 Soviet Union
1937
1938
16,573
[238]
16,573
[239]
California genocide[N 36]
 California
1846
1873
9,492 – 16,094
[240][241][244]
120,000
[241][245]
Amerindian population in California declined by 80% during the period
2017-18 Rohingya genocide in Myanmar[N 37]
 Myanmar
2017
Present
9,000 – 13,700
[252]
43,000
[253]
Bosnian genocide[N 38]
 Bosnia and Herzegovina
1992
1995
8,373
[258]
31,107
39,199
[259]><[260]
More then 3% of the Bosniak population of Bosnia and Herzegovinaperished during the Bosnian War.[261]
Chittagong Hill Tracts genocide[N 39]
Chittagong Hill Tracts, Bangladesh
1977
1997
3,000
[270]
5,740
[N 40]
Selk'nam genocide[N 41]
Chile, Tierra del Fuego
Late 19th century
Early 20th century
2,500
[271]
3,900
[272]
84%
The genocide reduced their numbers from around 3,000 to about 500 people. (Now pure Selk'nam are considered extinct.[272][273]
Genocide of Yazidis by ISIL[N 42]
northern Iraqand Syria
2014
present
2,100
[276]
4,400
[276][277]
Genocide of the Moriori[N 43]
 Chatham Islands, New Zealand
1835
1863
1,900
[279][280]
1,900
95% of the Morioripopulation was eradicated by the invasion from Taranaki, a group of Ngāti Mutunga and Ngāti Tama people from the Māori tribe.[281][282] All were enslaved and many were cannibalized.[283] They were not permitted to mix with their race.[284]The Moriori language is now extinct.[278][285]There are no Moriori of unmixed ancestry left.[280]
Black War
(Genocide of Aboriginal Tasmanians)[N 44]
 Tasmania, Australia
Mid 1820s
1832
400
[288]
1,000